At words poetic I'm so pathetic
That I always have found it best
Instead of getting it off my chest
To let 'em rest unexpressed

I hate parading my serenading
As I'll probably miss a bar
But if this ditty is not so pretty
At least it'll tell you how great you are

You're the top, you're the Coliseum
You're the top
You're the Louvre Museum
You're a melody from a symphony by Strauss

You're a Bendel Bonnet, a Shakespeare sonnet, you're Mickey Mouse
You're the Nile, you're the Tower of Pisa
You're the smile on the Mona Lisa
I'm a worthless check, a total wreck, a flop
But if baby, I'm the bottom, you're the top

You're the top, you're Mahatma Ghandi
You're the top you are Napoleon Brandy
You're the purple light of a summer night in spain
You're the national gallery, you're Garbo's salary
You're cellophane

You are sublime, you're a Turkey dinner
You're the time the time of the derby winner
I'm a toy balloon that is fated soon to pop
But if baby I'm the bottom, you're the top, top

Steve, there is something I got to tell ya
What is it Judy? Well

You're the top I am? You're a ward of's cellar
Oh no, no let me say it
You're the top, me too? That's right
You're a Berlin ballad oh, it's nice
You're the nimble tread of the feet of Fred Astaire
Actually I don't dance very well
You're an O'Neill drama, you're Whistler's mother
Mama sorry, you're Camembert

You're a rose, that is sweet
You're inferno's Dante
You're the nose watch it, I mean
What, what, wha, wha what on the great Durante, that's better
I'm the lazy lout who is just about to storm let's not storm

But if baby I'm the bottom
She's the one for me
And I've got 'im
'Coz if baby I'm the bottom
You're the top




Barbra Streisand - Just for the Record...
Jul 2003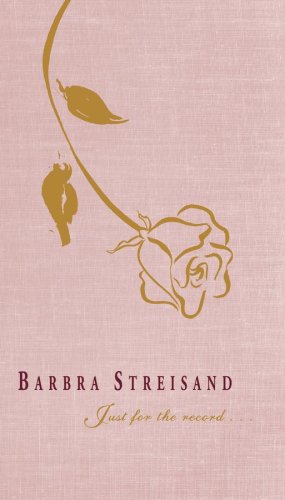 You'll Never Know (1955)
P. M. East - Moon River
I Can Get It For You Wholesale - Miss Marmelstein
The Garry Moore Show - Happy Days Are Here Again
Bon Soir - Keepin' Out Of Mischief Now
I Hate Music
Nobody's Heart (Belongs To Me)
Value
Who's Afraid Of The Big Bad Wolf?
(I Had Myself A) True Love
The Tonight Show - Spring Can Really Hang You Up The Most
The Barbra Streisand Album - My Honey's Lovin' Arms
The Second Barbra Streisand Album - Any Place I Hang My Hat Is Home
The Ed Sullivan Show - When The Sun Comes Out
Be My Guest & The Judy Garland Theme/Dialogue with Judy Garland and Ethel Merman
Medley #1 (with Judy Garland)
Get Happy/Happy Days Are Here Again (Duet with Judy Garland)
Funny Girl - Broadway - I'm The Greatest Star
My Man/Auld Lang Syne
Family Recording/My Name Is Barbra
My Name Is Barbra, Two - He Touched Me
You Wanna Bet
Harold Sings Arlen (With Friend) - House Of Flowers
Ding-Dong! The Witch Is Dead (Duet with Harold Arlen)
Color Me Barbra
Belle Of 14th Street
I'm Always Chasing Rainbows
Sleep In Heavenly Peace (Silent Night)
1969 Academy Awards
Friar's Club Tribute Harold Arlen
Don Rickles
Richard Rodgers
Hello, Dolly (With Louis Armstrong)
On A Clear Day (You Can See Forever)
When You Gotta Go/In The Wee Small Hours Of The Morning/Happy Days
I Can Do It
(They Long To Be) Close To You
You're The Top (With Ryan O'Neal)
What Are You Doing The Rest Of Your Life (Duet with Michel Legrand (demo)/album version)
Between Yesterday And Tomorrow
Can You Tell The Moment?
The Way We Were (Soundtrack Version)
Cryin' Time (Duet with Ray Charles)
God Bless The Child
A Quiet Thing/There Won't Be Trumpets
Evergreen (Demo/Soundtrack Version)
1977 Academy Awards
The Stars Salute Israel At 30 (With Golda Meir) - Hatikvah
You Don't Bring Me Flowers (with Neil Diamond 1980 Grammy Awards
Aclu Tribute To Alan & Marilyn Bergman
Yentl - Papa, Can You Hear Me? (demo)
The Moon And I (demo)
A Piece Of Sky (Demo/Soundtrack Version)
I Know Him So Well (Session Outake)
The Broadway Album - If I Loved You
One Voice - Over The Rainbow
Theme From Nuts (End Credits) (End Credits)
Here We Are At Last
Warm All Over
You'll Never Know (duet)